about:lukem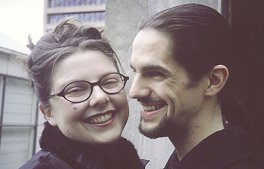 A photo of Inger and me, from our wedding day, as taken by my brother-in-law, Mark Nottingham. (I've had a hair cut since then)
life
I live in Canberra, with my wife, Inger Blackford Mewburn. We were married on July 31, 1998, at a small family-only ceremony. We have a son, Brendan. We moved to Canberra at the end of 2013. Prior to that we lived in Melbourne.
Inger is a Professor and the Director of Research Training at the Australian National University, and has a PhD in Architecture from the University of Melbourne. Inger is also known as the Thesis Whisperer.
employment
I've worked for Softel Systems since April 2008, and as Principal Engineer since 2018.
Prior to that, I worked at the following places:
Software Developer at [object craft] (1.75 years)
Software Developer at Wasabi Systems (5.75 years)
Systems Engineer at Network Appliance (7 months)
Senior Systems Administrator at the Department of Computer Science, RMIT University (2.5 years)
Senior Systems Administrator for connect.com.au (8 months)
UNIX Technical Support on the Cable Plant Records (CPR) project at Telstra (2.5 years)
System Administrator for the Department of Computer Science, RMIT University (1 year)
education
I completed a degree in a Bachelor of Applied Science (Computer Science), RMIT in 2000.
My four senior years at high school, which I completed in 1989, were at Melbourne High School.
contact details
personal
Email: luke@mewburn.net Cell phone: +61 419 361 266 PGP: public key and fingerprint

Email or phone is usually the best way to contact me.
NetBSD
Email: lukem@NetBSD.org
---
[ home ]